Hello! So glad to be back and blogging.
I'm sorry I haven't been able to blog in a while. I've been very busy talking with Mike Dalager for my
Witch House
film, and he's asked their cover artist if he could produce a piece for us. Cross your fingers, people! Reply to this post encouraging Mr. Rivera to do the art, and we will thank you on this site!
I'm going to start back with a little bit of comedy. I found this on Twitter a while ago, and I just HAVE to show you.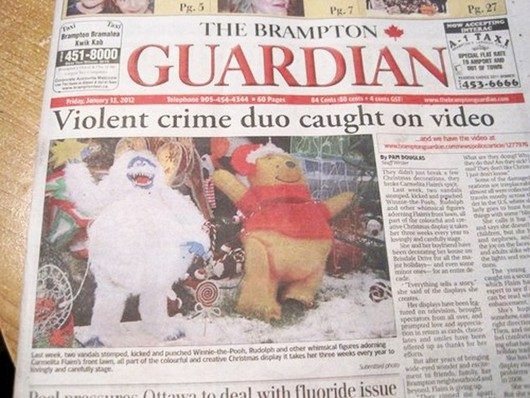 Probably the best example of a mismatched headline and photo. This is going up with that YOLO detention pass as some of the funniest pieces of paper I have ever seen.
I am happy to say that I will be reviewing another CD from
the H.P. Lovecraft Historical Society (HPLHS)
- but it isn't a musical. It is part of their "Dark Adventure Radio Theatre" series - a Mercury Theatre-esque series of radio dramas (as they might have been done during H.P. Lovecraft's life). I haven't decided which one yet, so check them all out! I am also pleased to report that my review of
Pit and the Pendulum
is coming along well, and should be out sometime in late May or April. Before you criticize me, be aware that my
Masque of the Red Death
review took a LOOOOOONNNNNNNNNNNNNNGGGGGGGGGGG time to complete.
I've been doing some articles on Squidoo in my spare time, all on H.P. Lovecraft, because right now I need to know my Cthulhu. You should check them out!
More stuff is coming. I just wanted to come back and let you know that I'm almost still alive and will be blogging. Just enjoy it and let the Poe roll in.
BRIAN