Photo credit: ethanclements.blogspot.com
(I own nothing).
This has always been one of my favorite pictures of the Red Death from Edgar Allan Poe's short story. I'm working on a comic book adaptation of it (still unfinished) for our new book, Tales of the Grotesque, out Halloween. Here are some more pics:
Drawn by 1FoRgotTenPaSsWorD on www.deviantart.com. I like how the artist, instead of using overt blood and gore, had a simple yet creepy ventian/plague-doctor mask.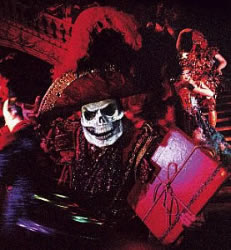 The Phantom dressed as the Red Death is the smash-hit musical The Phantom of the Opera, which is my favorite show. This also has a simple yet pretty awesome effect.
Harry Clarke's wonderful rendition. Here we see the more "corpse-like" aspect.
Art by Jennee M Bedsloe on www.elfwood.com. Another skeleton one here. It has a nice "glowing" feel to it.
Drawn by AbigailLarson at www.deviantart.com. From what I can tell, her work on Poe is in museum. And this is a gory one - blood dripping from the cloak.
This is a wallpaper from www.scenicreflecctions.com. Yeah, like the Red Death is a scenic reflection.
One of the more popular representations. From ethanclements.blogspot.com.
There are more. But I don't feel like it right now.
So...yeah.